The Zesty Microplane
April 5, 2010
Meet the Zesty Microplane:
Yes, that was a play on words…because this post is all about the new and improved way to zest anything from fresh nutmeg (if you thought you could only ground nutmeg from the store, you're highly mistaken), parmesan, ginger, and lemons to chocolate.  This is not your average kitchen grater!  If you haven't heard of the famous Microplane, than you're in for a major treat.  Not only is this tool an absolute essential for the new or seasoned chef, it is incredibly useful for a number of different cooking tasks.  This is in contrast with many other new kitchen tools being introduced, which all  seem to  have only one, rarely-used function  (i.e. avocado slicer–no thanks).
In addition, it's cheap!  Available at pretty much any kitchen supply store– such as Sur La Table, Williams-Sonoma, and Bed Bath & Beyond–the Microplane ranges from $10 – $ 35 dollars, depending on model type.  One of the more expensive–$35– options (seen below), comes in a traditional box grater style with 4 different sides–fine, medium ribbon, slice, and extra coarse.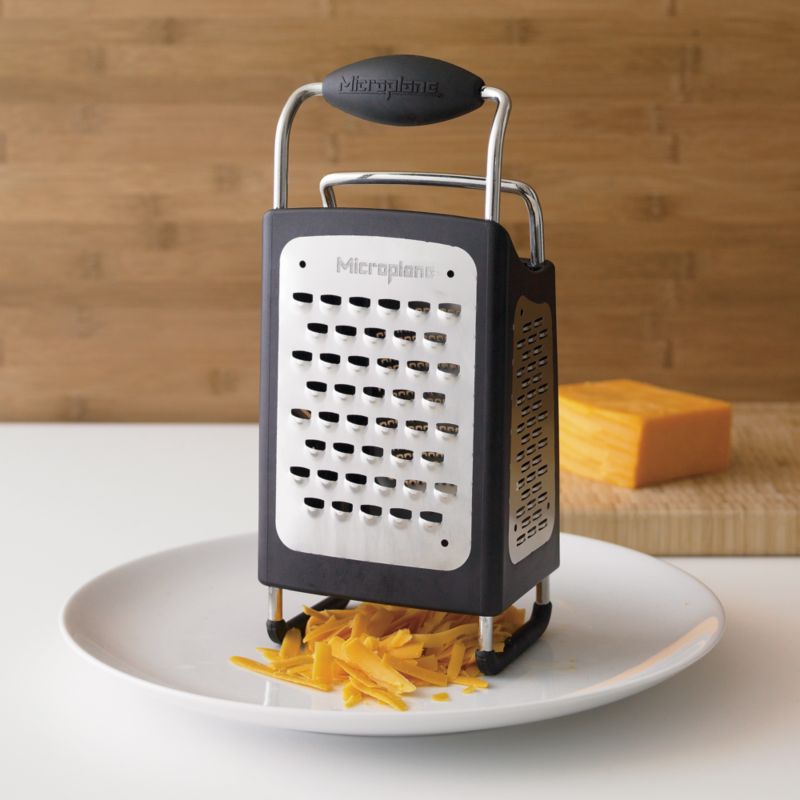 However, I personally recommend the model seen within the first photo.  This popular model is also the only option that comes in a variety of different colors, from fiery red (hello!) to a more subdued olive green.  It also provides a nice sturdy handle in order to avoid any slips and major trips to the hospital, as well as provides a nice and versatile fine zesting grate, which allows for perfect fluffy parmesan to finely ground fresh ginger.
Tip: The microplane is also brilliant for grating garlic to an ultra-fine pulp-like consistency.  This is great for making home-made garlic bread, pasta sauce, as well as any dish where you want to spread out the garlic flavor and avoid big chunks for unsuspecting dinner guests.
Buy it for a culinary-inclined friend, as a great stocking stuffer (side note: how  I received my one and only), or for yourself–it's sure to be a hit!